My Girl Scouts have chosen the local animal shelter as their service project for the year. I admit, I have a soft spot for animals. Growing up there was always a pet in the house. I can remember going to the pound with my parents to rescue animals on "death row". We would adopt them and then find a home for them, or keep them ourselves. Needless to say I was tickled to death when the girls decided on the shelter as a project. The Brownies made dog treats to donate using a recipe found online. They had a blast making them and even taste tested them! I have some adventurous girls! Their project was the last thing they needed to do to complete their Brownie Quest. The Juniors and Cadettes in the troop will also be making doggy treats as part of their service project for their Bronze and Silver award. My oldest daughter, K, is also wanting to make toys for the animals. As a result I created a quick and easy project for her to do that will enable her to make quite a few toys in the time alotted. She, however, feels that I have neglected the poor puppies in the toy department so I will have to design something for them as well. Anyway, here are the instructions for the cat toy: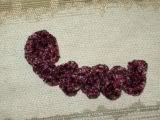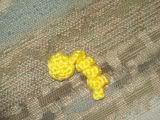 You will need:
a very small amount of yarn, samples were made using Simply Soft and some other unidentified thick yarn that I found in my yarn stash
size H hook for the Simply Soft or similiar WW yarn. I used a J for the other yarn as it was rather thick
1 jingle bell
stitch marker of choice (I use a safety pin)
Directions:
Chain 15
Place 3 sc in second chain from the hook and in the next 12 stitches. The chain will start to curl.
sc in the last chain, place stitch marker around this stitch. Place 5 more sc in the last chain. Join to marked stitch. This forms the cup for the jingle bell. Chain 1
Place 2 sc in each stitch around, join to first sc, chain 1 (12 sc)
Sc in each stitch around, join to first sc, chain 1 Place jingle bell in the cup now.
sc in first stitch, *skip next stitch, sc in next stitch. Repeat from *4 more times. skip next stitch, join to first sc. Fasten off leaving a long tail. Using the tail, weave it in and out of the stitches on the last round and pull tight to close around the jingle bell. Weave in the ends.