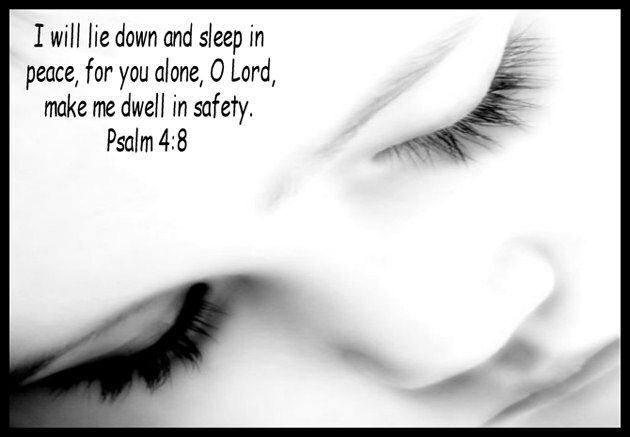 I admit, when I was working on this weeks scripture card, I was tired! Baby A had slept through the night 2 days in a row and I still hadn't adjusted to sleeping. I was three days behind in my personal Bible study and I was trying to catch up all at once. Not the best circumstances to attempt to spend time with God. You see, for me Bible study isn't a "have to" it is a "want to". When it becomes a "have to" it isn't personal, it's like doing homework. I don't want that kind of relationship with God. Anyway, I began reading, intending to only read a chapter or two, and I got engrossed. I am in Numbers. Aaron's sons have died and God is laying down the laws of the land. Next thing I knew it was 1 am! So I flipped to Psalms for a happy thought to bring to bed with me and read this verse. It still amazes me how God seems to give just the right words when I need them!
I read the verse and knew I would use the picture of a sleeping child. After all, children are so trusting. They don't worry about bills, what is for dinner the next night, will they get everything done tommorrow, did the accomplish everything today. They just go to sleep. It reminded me of a verse, Matthew 18:3, "I tell you the truth, unless you change and become like little children, you will never enter the kingdom of heaven." Children are so trusting. That is evident every day with Baby A.
Hold her in you lap and she dives to get on the floor. She moves without thought of getting hurt, trusting that someone will be there to save her. H and J are the same way. J begged to help daddy on the roof last year when he was cleaning the gutters. J was upset that I made daddy tie him to the roof as a safety precaution. J was with daddy, as far as he was concerned he was safe and nothing could happen to him. H likes to use the bar at the top of the swing set as a balance beam, giving no thought to falling. Then there is me, all grown up and full of fear. I can't stand to watch them as they do these things because I see them falling down and getting hurt, I see what could happen. And there is the crux of the matter. Somehow when we grow up, we grow fearful. We no longer trust that God will watch out for us. Maybe we have fallen down too many times and gotten hurt. Or maybe we only fell one time, but we never got back up again. When that happens do you blame God? I know that at times I did. Looking back now I can see what was going on.
I was walking my own path most of the time, living how I wanted to and not the way God wanted me to. I wasn't trusting God, or listening, or following Him. When we do that, we can't find the peace or the safety. God has given us free will. He allows us to choose the danger, to choose the situations that aren't safe. When we do that we negate His peace and safety. So tonight, as you lay down, remember to listen for God to lead you. For if you do, you will sleep in peace because God will keep you safe.